Hello YouArmy,
Good Afternoon,
From the 1800s Ireland Potato famine, Sea Moss name started and gathered its popularity by the shake of social media celebrities. But don't think it's new because it has been in the world since the oceans first hit the shore.
Then why everywhere chaos about it? Well, it is for its nutrition! It provides almost all the necessary vitamins and minerals our body needs daily. Isn't Interesting? So, today we will learn some amazing sea moss nutrition facts that you shouldn't definitely be missed!
---
Read this Article in detail: Sea Moss: THE NEXT GENERATION of FOOD | Sea Moss Awesome Health Benefits You Should Know!
Already Know about it? Let's Participate in Quiz: Cashew Nuts Quiz: Dare to answer these questions!
---
We will know two types of facts about Sea Moss.
The first one is Sea Moss General Facts and Another one is Sea Moss Nutrition Facts. So, Are you ready for those? Here we go …

Sea Moss General Facts:
Introduction: Sea Moss is also known as Irish Moss, or seaweed, or a macro-algae. It comes from both organically from seas or man-made harvesting. This type of algae grows on the rocky parts of the Atlantic coast of the British Isles, around Europes, and other parts of North America.[Cite]
History: Less than two centuries ago, sea moss used as a health treatment for tuberculosis and pneumonia. Being a cheap source of nutrients, it's also been used as a food to support potato field workers since the 1800s. Because poor farmers used it, many rich minded people at that time criticized this seaweed as a "poverty food". But soon by the flow of times, that riches also started attracting. [Karma!]
Usage: It can be used as a gel (thickener) in many food items including soups, smoothies, or desserts. Sea Moss can be applied directly to your skin or hair for brightening. It's also used as a baking complementary of eggs, which provide your daily minerals into your diet.
---
Awesome Books for your good health strategies!
---
Immune Booster: It's very rich in natural minerals and antioxidants that make it an immunity booster and weight-loss aid. Like magnesium, vitamin A, vitamin K, omega-3 fatty acids in it, help to hydrate and increase healthy skin cell function.
Nature's Multi-Vitamin: It's rare to have seen one particular plant that has all the vitamins and minerals, our body requires. But sea moss comes closer to it. It contains more than 90% of the nutrients your body needs and can be used as natural medicine. This is renamed "Nature's Multi-Vitamin".
Daily Usage: You can use sea moss as beauty products on daily basis. But it may take several weeks of regular use to notice the skin-care advantages. Because the active ingredient in it takes time to contract with the skin to absorb.
How much you can take? FDA recommends not to consume over 150 mcg (micrograms) of iodine per day. Because the iodine value in Irish moss (sea moss) can differ based on where it's from. For instance, three ounces of baked cod and 1 cup of reduced-fat milk can have about 99mcg and 56mcg respectively. Meanwhile, one layer (1g) of seaweed can clock between 16 to 2,984 mcg of iodine. So it's important to pay attention to nutrition labels if you're eating sea moss or buying its products.
Cautions: If you're experiencing any negative side effects like itchy throat or nausea (signs of a food allergy), or; mask or cream usage causing you irritation, like redness, burning, or stinging, stop taking it and immediately consult a doctor.
Considering Irish sea moss supplements (face creams, drugs) than raw Irish sea moss – important to remember, the supplement industry yet not well controlled or monitored. That's why it can make it hard for consumers to decide its quality.
Having too much iodine (presents in sea moss) in your diet can lead to goiter (enlarged thyroid gland); hypothyroidism (a disorder when the thyroid doesn't make enough thyroid hormones); thyroid gland inflammation, or even worse – thyroid cancer, as per NIH.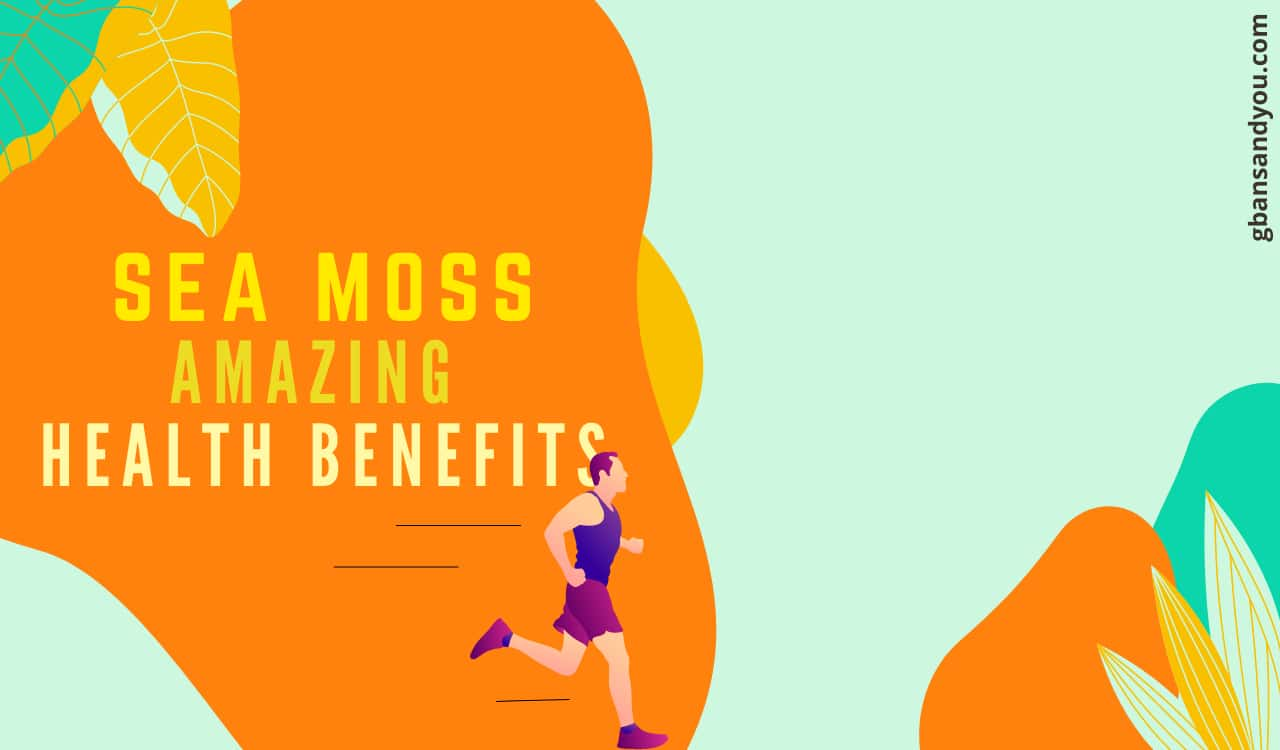 See Moss Nutrition Facts:
Iodine Rich and increase thyroid hormones: Having low in calories[Cite], as per Food and Drug Administration (FDA) – sea moss has essential minerals like folate (vitamin 9) is crucial for prenatal health and development.
It's also high in iodine. This mineral found in a limited amount of foods or not even found in many cases. Our bodies need iodine mineral in moderation to produce thyroid hormones which control our body's metabolism and many other important functions.
Prevent Parkinson's Disease: Parkinson's Disease in Older adults affects movement, causing tremors, stiffness, and slowness of movement, and has currently no cure. However, early research shows sea moss able to slow down the progress of this disease.
In a recent study done with worms extracted from sea moss, was shown to decrease the quantity of α-synuclein and also reduce stiffness and slowness of movement. But sorry to say, for now, the research ends up with only worms, not with humans. So more research needed to see if it has the same effect on humans.
Improves the Immune System to fight against Salmonella Bacteria: Another studies suggest that sea moss can boost the immune system stopping the growth of Salmonella Enteritidis when hits. This bacteria causes Salmonella Infection in humans. But further studies needed for its accurateness and effectiveness.
Try Sugar-Free, Be Tension Free! 😀

Rich in iron and gives more energy all over the day: It's a full pack of iron, which mainly sourced from non-veg foods like meat, poultry. To be said, at your low energy, it may be because your body is lacking irons. Iron helps your body create red blood cells to move oxygen from your lungs to cells. But here it's no less than a miracle! Sea moss contains about 9 milligrams of iron per 100g, which means it has 9 times more iron than chicken. Amazing, isn't it?
So, on your breakfast try adding sea moss as an iron supplement in a gel form to your smoothies or food. You will notice at least a little difference in your energy!
Sea Moss Contains More Than 90% of Nutrients Our Bodies Need: This tiny spiral yellow/reddish/brownish seaweed extremely nutrient compacted. Experts explained sea moss has 92 out of 110 minerals the body needed. Mostly contains vitamins like beta-carotene, vitamin B, vitamin C, sulfur as well as minerals like magnesium, manganese, calcium, phosphorus, etc. All these contribute to healthy cell functioning in the body.
Helpful for Healthy Weight Loss: You can use sea moss as a supplement for weight loss aid. But before you go to use sea moss as a weight-loss supplement, consult with your doctor to avoid unnecessary damage to your body.
Rich in protein which helps to make muscles and build strong: It's also rich in protein (with 6 grams of protein per 100 grams). Then what's amazing? Amazing is that it contains taurine (amino acid) that helps the body burn fat and build infinity … pack body muscles (lol 😆 ).
Have a Green tea, Have a Green Health!

Gives strength fighting against ageing and inflammation: It helps your body to prevent everyday ageing with 4 anti's: Anti-inflammatory, anti-ageing, anti-bacterial, and anti-viral. This seaweed heals and recovers you from sickness as it has potassium chloride, which helps the body reduce inflammation and lower the risk of infections from many diseases. Besides, it has sulfur to lower the levels of microorganisms on the skin and relieve redness.
Best Multi-Nutrient & Functional Food: Functional foods have high nutrient density, protein content, and fibre in sea vegetables including this one. It means these foods offer health benefits that go beyond just supplying our essential nutrients (like vitamins and minerals). A study suggests adding small amounts of seaweed (sea moss) to our daily foods may help reduce rates of cardiovascular or similar diseases.
Calms our Respiratory and Digestive System: When it has taken on morning breakfast, can soothe/calm our respiratory and digestive system. Like aloe vera and okra, sea moss is a mucilaginous food, which (sticky & thick) can double as a remedy for irritation. It's also a type of dietary fibre that's works as a fertilizer for probiotics (healthy bacteria in your stomach), helps to digest better.
Hope you enjoyed this Sea Moss Nutrition Facts & General Facts. Thanks for reading! See you soon 😉
Related:
See Also: